Extra special & save time...
The holiday season–glittering lights, colorful packages, good cheer… stress (and lots of it!). Some people can't wait for all the activity and excitement of the holidays; others are overwhelmed just by the thought of all that activity and excitement – to say nothing about the real deal! And lots of people fall somewhere in between. The holidays are lots of fun, but did you know that the Christmas season is considered to be one of the most stressful times of year?
Besides the strain on time, with holiday parties, school programs, and necessary shopping, money worries tend to creep into people's thoughts. Fitting holiday spending into a budget takes some planning. These simple tips can help: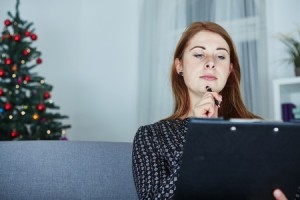 Start by making a list of gifts you need to buy. Don't forget coworkers and teachers.
Set an amount to spend on each person.
Start shopping early.
Do plan to buy a few things that you can use when an unexpected gift need pops up.
Sure, your budget comes into play with gift-giving, but gifts are about much more than the cost. Gifts are a way to show people that you care about them. And you know that no price can be put on love. Instead of worrying about buying an expensive gift, focus on finding a gift that fits the receiver's personality or a gift that reflects a special connection you have.
And choosing the right gift is something you can do without fighting the crowds!
Check out our awesome selection of cards and gifts.
Now you can get ready to relax and enjoy the holiday season.